Sharp GP2Y0D805Z0F Digital Distance Sensor with Pololu Carrier - 0.5 cm to 5 cm
Description
Discontinued - you can grab this Adafruit VL6180X Time of Flight Distance Ranging Sensor (VL6180) - STEMMA QT instead!
If you're like me, you've always wanted a smaller and faster way to sense an object between 0.5 and 5 centimeters away. If you're really like me, you've wanted the sensor to come with a low current draw and on a tiny carrier board with all of the external components required to make it work.
The Pololu Carrier with Sharp GP2Y0D805Z0F Digital Distance Sensor fits those both needs and more. it's one of Sharp's fastest distance sensors - with a sample rate of almost 400 Hz and is an attractive alternative to short range phototransistors and longer range analog distance sensors.
This small digital distance sensor detects objects between 0.5 cm and 5 cm (0.2″ and 2″) away. With its quick response time, small size, low current draw, and short minimum sensing distance, this sensor is a good choice for non-contact, close-proximity object detection, and our compact carrier PCB makes it easy to integrate into your project. If you need slightly more distance from your sensor, we also offer the GP2Y0D810Z0F, which can sense objects 2 to 10cm away.
There are a few millimeters of hysteresis around the maximum range threshold and no hysteresis at the minimum range threshold. Note that these sensors will only tell you if there is an object within the detection range along their narrow lines of sight; they will not tell you how far away the object is.
Some example applications include:
break-beam sensor or photogate alternative
non-contact bumper or obstacle detector
a counter or timer of objects as they pass by
This sensor comes with a 3-pin male header and a 3-pin right-angle male header. You can connect these pins with a servo cable. The square pad is ground, middle is VIN, and the remaining pad is output. If you place a large capacitor (more than 10uF) between power and ground you should see an increase in performance.

We carry a large variety of Sharp Distance sensors here if this fellow isn't what you're looking for.
Technical Details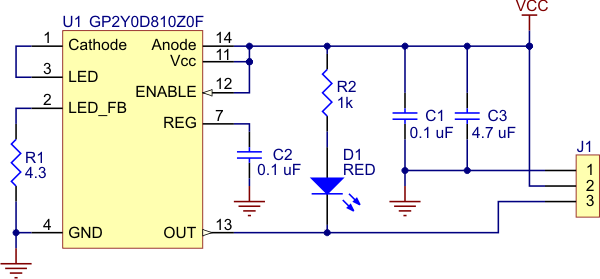 Operating voltage: 2.7 V to 6.2 V
Average current consumption: 5 mA (typical)
Distance measuring range: 0.5 cm to 5 cm (0.2″ to 2″)
Output type: digital signal (low when detecting an object, high otherwise)
Steady state update period: 2.56 ms typical (3.77 ms max)
Enable pad can optionally be used to disable the emitter and save power (this feature requires you to cut a trace first)
Product Dimensions: 21.8mm x 10.5mm x 9.0mm / 0.9" x 0.4" x 0.4"
Product Weight: 1.3g / 0.0oz